Keeping your business on track!
FULL SERVICE RAILROAD CONSTRUCTION & MAINTENANCE COMPANY

Track Construction
New Track Construction
Track Rehabilitation
Track Scale Foundations
Track Uploading Pit Construction
Turnout/Switch Construction

Track Repairs
Crosstie/Rail Replacement
Grade Crossing Rehabilitation
Track Re-Alignment
Railcar Re-Railing
Derailment Repairs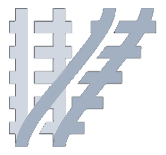 More Railroad Services
Railroad Track Tamping/Surfacing
Hi-Rail Excavator/Dump Truck Service
Railroad Brush Cutting
Railroad Bridge Deck Rehabilitation
Hi-rail Vehicle Leasing/Maintenance
24/7 EMERGENCY SERVICE
We have crews available day or night, rain or shine. Contact us immediately at (330) 753-2983 if you have a railroad track emergency.
Whether your project is a simple repair or a long term project requiring detailed planning, Wintrow Construction is a full service railroad contractor ready to serve you. Contact us today to see how we can keep your business on track.
Family Owned and Operated for almost 50 years
673 Norton Ave. Barberton, Ohio 44203